A new way to reduce waste and improve hygiene of disposable cups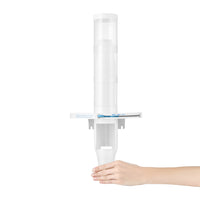 Reduce Waste
Innovative design that releases only one cup with the touch of a lever. It reduces waste by avoiding pulling multiples cups at once.  
Improves Hygiene
All cups, including the bottom cup, are kept inside the tube that is closed on both ends.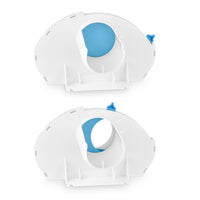 Tube and Dimensions
The adjustable transparent tube can be adapted to different heights to fit your needs. Mounts to most wall surfaces. Anchors/screws for drywall, concrete, and wood wall included.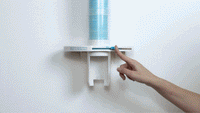 How does it compare with other dispensers?
Our dispenser dispenses one cup at a time with the touch of a lever while keeping all cups fully-enclosed.  Other cup dispensers might dispense several cups at a time and might have a cup exposed.
How it works
1. Move blue lever in direction of arrow
2. Wait for one cup to fall
3. Release lever and get your cup
Office & Home
Perfect to drink water with 5 oz disposable cups at home, workplace, dentist office, hospital, hotel, kitchen, bathroom, and more.
Testimonials from AMAzon
⭐️⭐️⭐️⭐️⭐️

I don't normally write reviews but in this case I have to.
This cup dispenser is by far the best dispenser I every had and I had quite a few.
Whoever engineered this dispenser hit the nail on the head. I've had it two weeks now and I still haven't got a double cup no matter how I try it, unbelievable gaurranteed you'll love it.
I wrote this review on my own because that's the way I do things so go for it you'll see for yourself.

Mark
⭐️⭐️⭐️⭐️⭐️

I ordered this product for work due to our company being an essential company producing many medical components. The other cup dispenser we had you would pull a cup out and several more cups would come out and people would touch the extra cups and put them back in the dispenser, which we want to keep things sanitary and safe. This product dispenses once cup at a time, every time and only gets touched by the person dispensing it.
Clever concept how it turns upside down when dispensed.

Tracy
⭐️⭐️⭐️⭐️⭐️

I love Dixie cup dispensers… Have used them practically all my life. This is probably the nicest most efficient dispenser I have ever owned. What a joy to simply touch the lever and the cup plops out..
Not even falling to the floor. Love love love it.

Joann
⭐️⭐️⭐️⭐️

I like the concept of this dispenser and the way that it extracts a single cup at a time and rotates it. Visually, very cool and has inspired my kids to grab a new cup to rinse their mouth or to just drink some water. The only downside is the size of the platform that the cups are attached to. It's a little wide because of the gears inside that create the flipping motion, but overall it's a great dispenser. I like the modularity of the silo used to stack the cups. It allows you to use only a few of them if you don't want it to be that tall. Because it inspires my kids to use cups and drink water, I definitely recommend. Hopefully they can figure out how to make it more condensed and practical in size.

Rafael
⭐️⭐️⭐️⭐️⭐️

This is the best cup dispenser. It dispenses one cup at a time every time. The 5 oz. Great Value cups work perfectly.

Rick